Features
Designed to hold up to 15 metabolic cages.
Easily assembled with provided hardware.
All aluminum construction.
Durable baked powder epoxy finish.
Aluminum structural tubing feet.
Non-skid leveling adjusters.
Zinc plated assembly hardware.
Optional stainless steel hardware.
Optional swivel casters with swivel locks and wheel brakes.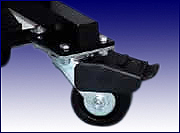 The Hatteras Instruments Metabolic Cage Rack is designed to hold up to 15 individual MMC100 Mouse Metablic Cages. The unique design allows easy insertion and removal of the cages by placing each cage through a large diameter hole in the rack shelf. The base of the cage is supported by a solid shelf.
The solid base support shelf incorporates a safety plate with large diameter openings to also accept the cage base. This design feature provides stability for the cages without requiring any complicated holding devices or clamping mechanisms. The cages are simply inserted or removed from the rack as easily as placing a peg in a hole.