The MC4000 is operated through custom analysis software that is designed to obtain, organize, and examine large quantities of mouse or rat blood pressure measurements.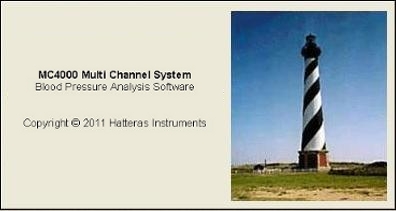 MC4000 Software Features
Database software
Controls specimen platform and initializes experiments
Measures systolic, diastolic, pulse rate and mean arterial pressure
Automatically calculates mean and standard deviation of results
Displays multiple waveforms in real time
View results by experiment, session, or specimen
Includes calibration and pressure test for quality assurance
Simplifies reproducing experiments
High storage capacity for multiple experiments
Saves all measurements, waveforms, and statistics
Data can be exported to spreadsheet application
Tracks and organizes established relationships between experiment, session, and specimen
Measurement Session Walk Through
Define Parameters
There are over 20 adjustable parameters for experiments, such as number of measurements per session, time between measurements, and measurement thresholds.
The user can specify settings or use the default parameters. Once defined, the parameters are saved to the Experiment ID and do not have to be entered again.
When the animals are situated on the platform and ready for measurements the Specimen IDs are entered into Registration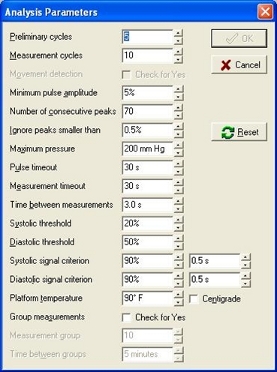 Specimen Registration submits the Specimen IDs into the database and logs the animal into the Specimen Log.
The Specimen Log will retain every blood pressure measurement for that animal under it's corresponding Specimen ID.
If the ID already exists, the user can select it from the drop-down menu. Once the Specimen IDs are selected, click GO to begin automated blood pressure analysis.
Obtaining Blood Pressure Measurements
During the measurement session, the MC4000 Specimen Platform will run through the specified preliminary and actual measurements. Preliminary measurements acclimate the animals to the measurement process. This increases the quality and accuracy of results during actual measurements.
The tail cuffs will slowly occlude the blood flow and measure the systolic and diastolic mouse or rat blood pressures. Pressures are obtained through our custom algorithms that correlate precisely with intra-arterial measurements.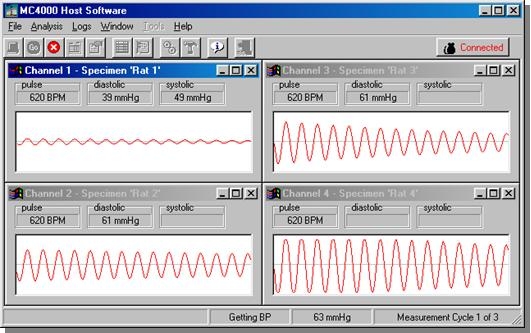 Viewing and Saving Results
At the end of each measurement session the software displays the overall mean and standard deviation per channel for the Systolic, Diastolic, MAP, and Pulse. Each session is stamped with the data and time.
The user can also examine the Specimen Data to review the results of each measurement per channel. The table will display the systolic and diastolic results for the indivdual mouse or rat.
By selecting a single measurement, the user can replay the waveform or scale the waveform to closely examine a particular segment.
The results are automatically saved into the database and can be retrieved at anytime for future analysis. Results can also be exported to a spreadsheet application and waveforms can be copied to a document preparation software.